Moon Hill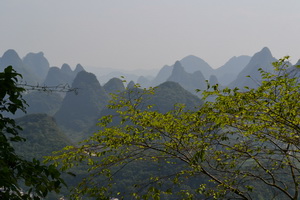 Moon Hill lies in the southeast of Yangshuo, it is 380 meters high, it is about 40 minutes bike ride, a limestone pinnacle with a moon-shaped hole. It is one of most visited sights in Yangshuo, Make the hill be one of most famous attractions in Yangshuo, there are about 800 stone stairways wind through the thick bamboo and brush to the top, and costs you about 40 minutes to the top of the hill, rewarded by breathtaking landscape with villages, Yulong Rivers, towering pinnacles, 1500 year-old Big Banyan Tree. The stairs completed in 1981, giving a easy access to who want to climb up to the Moon Cave.
The cave is about 50 meters high and long, you can see the blue sky, white clouds, mountains and villages through the Moon Cave. Nearby are Buddha Cave, Moon Hill cave, Longmen Cave and other sights. There are a lot of fun for whose who like a little adventure.
After you enter the Moon Hill, the hawkers (usually middle and old age women) will follow you up to the top of the hill, sell their water, souvenirs or postcards to you. After forty minutes long stone steps to the top of hill, you will find it is worth visiting. You will see the amazing landscape. You can climb up to the moon cave section or go on to the top of the peak.
Moon Hill has a natural round cave at the peak and from a distance, the cave (a hole in the peak) resembles the moon, hence the name.