Yangshuo Shangri-la Park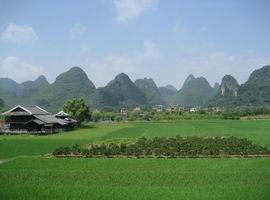 Shangri-la refer to live a very serene place enjoy the free, quite and easy-going life. It is a place full of peach blossom flowers blooming all year around.
It is 16kilometers to Yangshuo, and features a scenic boat tour on a beautiful lake in a rural setting. As your boat passes by dancer from various minorities will greet you with traditional dances of welcome. You can boat along lakes for about 25 minutes to see the rice paddies, peach blossoms, green trees, rivers, bridges, caves, rocks, folklores of ethnic groups, various kinds of minority buildings, the folks performances of Miao, Yao, Dong and Zhuang.
The theme of this park is from the Legend of Peach Blossom Land by Tao Yuanming, it is a real beautiful and idyllic place.