Bamboo Boat Rafting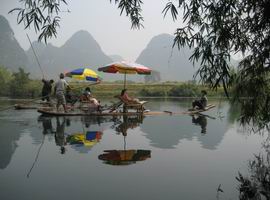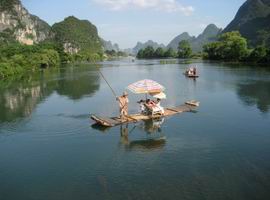 Yulong River is the biggest branch of Li River in Yangshuo, The pretty Yulong River is said to rival or even beat than Li River in terms of beauty.
Sitting in a chair on a raft and float down clean and clear water of Yulong river, your eyes will feast with farmers working in the rice paddies, farmhouses, green trees, bamboo groves, women washing clothes, ducks paddling on the water and towering pinnacles. It is really peaceful, idyllic and relaxed life, this place usually leaves you the biggest impression for your trip to Guilin, you will have different feeling from you are on the big boat cruise in Li River.
Yulong River flows through some of the most beautiful Karst (limestone) scenery near Yangshuo. Local people use rafts as daily transportation up and down the river between house, markets, and rice paddies. Some villagers made bigger rafts and started to woo the travelers and soon it became a highlight of tour around Yangshuo Guilin.
There are variety of docks for bamboo rafting, you can choose one depends on your favorite and duration.
The top of Yulong River Scenic Spot is Dragon Bridge which is built in 1412.
The quote is from 180 to 400 Yuan for one bamboo rafting for 2 persons depend on the distance and duration.
There are 2 type of bamboo boats rafting in Yulong river, big bamboo boat and small one, the big boat takes 5 or 6 tourists, it is good for one family rafting in the short section in Yulong River.
The small one is only for 2 persons rafting for longer section of Yulong river.