Ethnic Folklore Show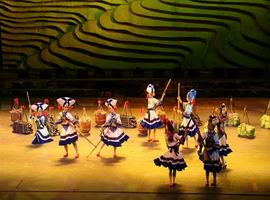 It is wonderful show you will see the Zhuang, Yao, Miao and Dong ethnic minorities wearing their colorful, bright and magnificent clothes, silver ornaments, singing and dancing accompanying with melody ethnic music, express their folklores, customs, lifestyles, love, happiness and good wish for the future.
Watching the show, as if you were being brought into the mysterious village of dragon's back with the ethnic culture, wonderful ethnic songs, ethnic customs and folk lives. This elegant and passionate performance will refresh people from different cultural background. Using the real scene in the show and makes real life into an art. You will experience the charm of the folk customs and you will understand the spirit of people in the Dragon back. With the top class lighting, background stage designs and acoustics and other stage systems make the show more attractive.
The themes of the show are ethnic culture, folk customs features and local flavor singing, dancing, ethnic costumes show and harvest dance. Here you will listen to the Dong Nationality Grant Song of brass drum(1000 year-old song), see the Nuo Dance, (dance of driving away pestilence) and Grand Wedding, Dance of Stalk Stand from Miao Nationality, Dance of Drinking Wine from Zhuang Nationality, Bath in Wooden Bucket and Dance of Long-hair Women from Yao Nationality.

The background of the show:
Among the towering mountains in the north of Guilin, dwelled by some Zhuagn, Miao, Yao and Dong minority, from Yuan their ancestors had started to cultivate the virgin mountains to terraced rice paddies, they have taken the bulls with horns and making it working hard, from generation to generation they have been working in those mountains, after one thousand years a considerable size of dragon back rice is formed, while their colorful life customs turned into world famous scenic scroll.
The show starts at 8:00 pm, ends at 9:10 pm every night.
The show is not available from 2015.